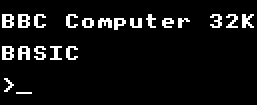 ---
[ main | what's new | search | software | emulators | archive | documentation | links ]
---
You have arrived at the net's largest site catering for enthusiasts of Acorn's (RIP) range of 8-bit micros from the eighties: the BBC models, Electron, Master and Compact, and to a small degree the Atom and Archimedes. You'll find the main focus to be on BBC B emulation, evident in the huge archives of games and other software (both file and ROM based), as well as in the plethora of technical documentation and emulators available. You'll find links to most like-minded and related sites present on the net.

If you have questions, please consult the FAQ and relevant documentation before mailing me or the mailing lists! Acorn hardware questions should preferably go to the mailing list, as I will probably not be able to help.
Table of contents
| | |
| --- | --- |
| Site of the day, August 14, 1996 | Arrgh! invaded this site with 4 aliens |
Robert Schmidt - rsc@nvg.org.